School Organisation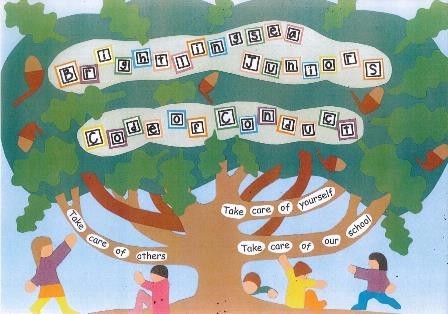 School Organisation
The children in the school are divided into two parts, Lower and Upper. Children in classes in the Lower School are Years 3 and 4 pupils, and those in classes in the Upper School are Years 5 and 6 pupils. Currently children are taught in single age group classes. The teacher in each class is responsible for the children's work for much of the time but your child may work with other teachers and in other parts of the school. Children are placed into ability sets for Maths to cater for different needs. A variety of teaching approaches will be used including whole class, group and individual teaching as appropriate.
We try to keep groups of children who started school at the same time together but when classes are reorganised this is not always possible.
Timings of the school day
8:45am gates open (pupils should not be on the premises before this time)
8:55am pupils enter school
9am Registration
10:15am Assembly 1 (Year 4 and 6) with Year 3 and 5 going out to play
10:40am Assembly 2 (Year 3 and 5) with Year 4 and 6 going out to play
12 – 12:45pm Lower School Lunchtime
12:45 – 1:30pm Upper School Lunchtime
3:15pm Hometime
Parental Involvement
We encourage parents to take an active interest in the education of their children and to feel involved in the work and life of the school. The school welcomes the involvement of parents who feel able to help in the classroom.
At the start of each school year, in September, each year group holds a 'Meet the Teacher' session. Information on topics for the forthcoming year along with other useful information is shared with parents. There are opportunities for parents to discuss their child's progress at Parent Evenings and to find out about various aspects of the curriculum.
If you have any concerns about your child please let us know as soon as possible. You can call into the office and leave a message or book an appointment with the classteacher. Please don't wait until the next Parents Evening if you are worried about something or think there is anything we need to know about your child. If you are still concerned after your chat with your child's teacher then please make an appointment with our Deputy Head or our Headteacher. We want to work together with you, in partnership, to ensure your child is happy and reaches his or her full potential in our school. The Headteacher and teaching staff believe a child will only develop fully if school and home act together as partners with a shared responsibility for the child.
SEND School Offer
You can find out more about our provision for pupils with Special Educational Needs and/or Disabilities by clicking on the link below. Or by clicking on the 'SEND School Offer' button on the left hand side of this page.
Children's Behaviour
In the school and its surroundings there are ample opportunities which the teacher uses to encourage better social behaviour, for example: in the playground, at school meals and moving around the school as well as the classroom. Above all there is a consistency of social standards in the class and throughout the school shown by the outlook of the Head, the teachers and all the staff, so that the children understand our expectations of them. Parents will be contacted quickly if their child is experiencing particular behavioural or academic problems and we hope parents will not hesitate to come in if they have any anxieties or queries.
Code of Conduct
School rules are kept to an essential minimum and are included in our home/school agreement. They have been developed to be meaningful to children. None are too difficult. They are all designed to develop courtesy, good manners and mutual respect. They are to protect children from injury, to care for equipment and to maintain a hygienic, healthy environment. Our school rules are displayed throughout the school and reinforced by all staff.
Anti-social behaviour is not condoned. It is essential that parents and teachers work together through discussion and action on any problems which develop.
Our Code of Conduct is:
1.

Never

Take Care of Yourself

· Do anything silly or dangerous where you might be hurt.
Stay in school at break times or leave school without permission.

Always

· Tell someone if you are unhappy, being picked on or bullied.

2.

Never

Take Care of Others

· Do anything to hurt others (such as hitting/name calling).
Distract others from working.
Be cheeky or rude to adults.

Always

· Be friendly to visitors, newcomers and other children.

3.

Never

Take Care of your School

· Steal or deliberately damage school equipment.
Drop litter or damage the school building.
Give the school a bad name.

Always

· Be proud of your school.
Our Listening Code

When I am asked for my attention I:

Stop what I am doing

Empty hands/show me five

Look at the teacher

Keep quiet and still

Listen to instructions

Our Line up Code

When I am asked to line up I:

Walk to the end of the line

Leave a person space

Keep my hands and my feet to myself

Keep quiet and still

Listen to instructions
These basic rules displayed in all classrooms and corridors and regularly verbalized in assemblies and PSHCE lessons
Rights and Responsibilities
Children's Rights

· To be respected

· To be heard

· To be believed

· To be trusted

· To learn

· To be safe

Children's Responsibilities

· To show respect

· To listen

· To tell the truth

· To be trustworthy

· To allow teaching

· To take care
Rewards and Sanctions
We believe in rewarding good behaviour. It is very important that praise and reward should have great emphasis. Children will achieve more, be better motivated and behave better, when staff commend and reward their successes rather than focus on their failure.
Praise has a reinforcing and motivational role. It helps a child believe he/she is valued. Praise can be delivered in formal and informal ways, in public or in private; it can be awarded to individuals or to groups; it can be earned for the steady maintenance of good standards as well as for particular achievements.
We use a variety of rewards including stickers, certificates and Headteachers Awards. We also have regular Achievement Assemblies and we hold termly Governors Awards presentations.
A range of sanctions are available when behaviour falls short of expectations. When sanctions are applied, children should be helped to understand why what they have done is not acceptable.
'Believe & Achieve' Mentoring Programme
All parents want the best for their children. So does Brightlingsea Junior School . From September 2013 we introduced a new method of tracking a child's progress and setting targets for improvement. This is our 'Believe and Achieve' mentoring programme. 'Believe and Achieve' will be the main vehicle for ensuring that children reach their potential. It will also form the basis of parental consultations and reporting to parents.
Our 'Believe and Achieve' mentoring programme will involve all children and all staff, all of the time.
Aims of 'Believe & Achieve'
To raise standards for all
To motivate and involve children
To inform and involve parents
The child will remain central to the whole process throughout.
Find out more
Classteachers will share further information on the programme with you at the 'Meet the teacher' sessions at the start of the school year, and later in the the Autumn term at your parent consultation meeting. You can also find out more by visiting the 'Believe & Achieve' section of our school website, click on the 'Believe & Achieve' button on the left hand side of this page.