Learning Logs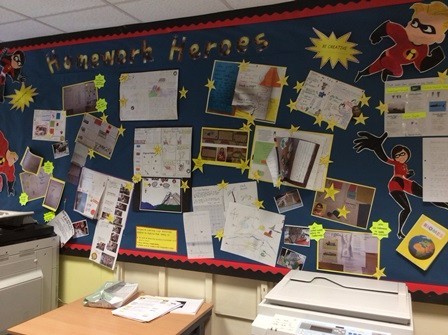 Homework is an important part of education and the school tries to ensure that the work set is relevant, limited and manageable. Homework completion and return is tracked through our 'Believe and Achieve' Mentoring Programme and is seen as an important element of the Attitude section of performance. Please check regularly if your child has homework and help them to ensure it is completed and returned on time.
All children will be asked to practise reading at home. For younger children this may mean reading aloud but for older children it may mean talking about their book to develop comprehension skills.
Children taking responsibility for their homework lays down the foundations for future study habits and we hope parents will support this practice.
What did Ofsted say about our Learning Logs?
"Leaders have successfully promoted the key theme of 'believe and achieve' to ensure all staff become involved in school improvement. ... Parents are also engaged effectively in this programme, to support their children in taking more responsibility for their homework. The school makes good use of 'learning logs' to extend pupils' opportunities to develop their learning by linking homework to activities completed in the classroom. These make a significant contribution to pupils' achievement." Extract from our inspection report June 2015
Learning Logs

Our Aims:
To improve the quality and effectiveness of homework tasks.
To continue to extend learning by linking homework to activities completed in the classroom.
To make homework something that children can take control of, actively engage in and be proud of.
What are learning logs?
Learning logs will replace some of the homework that your child has been set in the past.
They will contain challenges and tasks to work on at home.
They will share with and inform parents of the learning going on in the classroom.
They will give children the opportunity to record their work in a variety of ways.
They will aid independence, curiosity and personalised learning skills.
What about Reading, Spelling and Tables?
Your child should still read at least three times a week and have this recorded in their reading log book.
They will still be given spellings to practice.
They will be given multiplication tables to learn.
They may occasionally be given additional mathematics homework tasks to help them to meet their targets.
In year six they will also receive regular extra homework covering English and Maths skills.
How will Learning Logs be used?
Your child will bring their learning log home on a fortnightly basis. It will be sent home on a Friday and should be returned to school by a week on Monday. This gives ten days to work on the learning objectives set.
Your child's teacher will stick in a label to remind each child what learning they have covered and should develop and extend in their learning log.
Remember!
There is no right way or wrong way to complete the learning log. Children can choose how they would like to present their work, through pictures, diagrams, writing, photographs, or even 'lift the flaps'. The work should be child-led. Please feel free to give support and encouragement but do not do it for them!
Only one double page should be completed each fortnight. If your child wants to extend the space they have available, they could carefully attach fold outs or flaps. This should all fold neatly back into the book.
Please explore the following web-site for more information and ideas on how to get the most out of your child's learning log. http://www.learninglogs.co.uk/
Here are a few quotes from the children about Learning Logs, taken from a recent questionnaire:
Learning logs are the best because you can do it your own way and you can design how to do it." Year 5
"I like the logs because they help me record my ideas." Year 3
I think the learning logs are fun because you can be creative!" Year 3
"I like our learning logs because I like writing things and I find stuff out that I didn't know." Year 5
"This is better than how we did homework before because we are able to do more". Year 5
"I like learning logs and big foot because I have to think about what I am doing and it keeps me out of trouble!" Year 6
"I enjoy doing my learning log and putting my own work in". Year 4
"I enjoy doing extra topic work in my learning log". Year 4
"I like doing my learning log because it is fun and I can be creative". Year 4
If you have any questions about Learning Logs or Believe & Achieve please contact Mrs May or Miss Girling, our Believe & Achieve champions, who will be happy to answer them for you.
What do our parents say about homework? (Parents Survey 2014)
Strongly agree

Agree

Disagree

Strongly disagree

Don't

Know

My child receives appropriate homework for their age

42%

51%

5%

0%

1%
You can download a factsheet about Learning Logs & Homework by clicking on the link below.