Corridor Displays - Spring Term 2017
"OWL I want for Christmas is you!" and "OWL be home for Christmas" - our entries at the 2016 Brightlingsea Christmas Tree Festival.
We were delighted to win the Child Group category this year!
We were delighted to be finalists in 4 categories at the 2016 Education Awards: :
Primary School of the Year - Runner Up
School Personality of the Year - Jan Dixon our School Cook - WINNER!
Fit for Life - Runner Up
PTA of the Year - WINNER!
Roald Dahl Day - September 2016
First place at the Colne Athletics Tournament - well done team! July 2016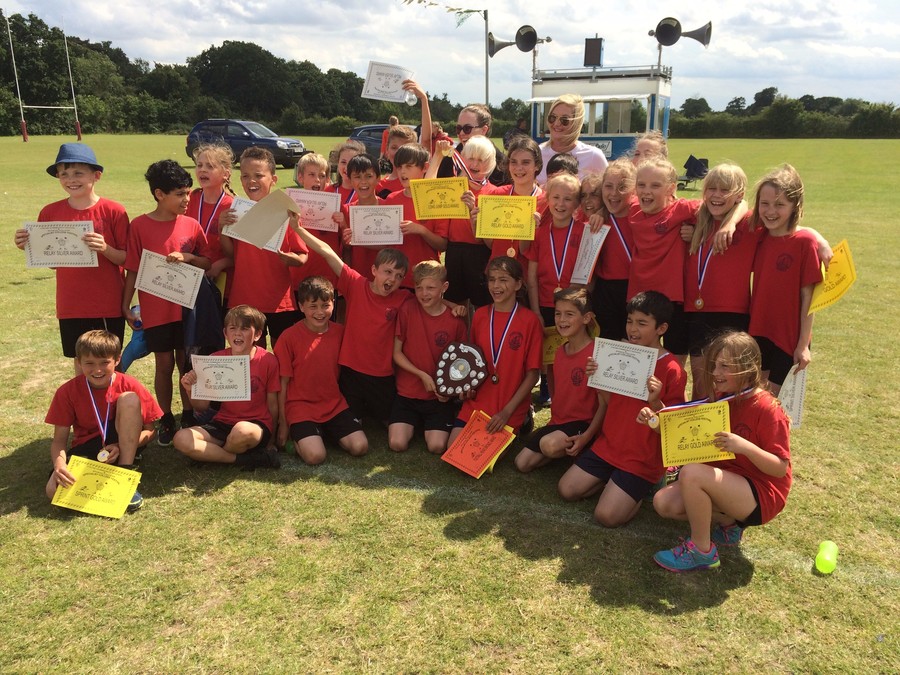 CDPSSA District Sports Champions 2016
Our 3rd year of winning this athletic tournament!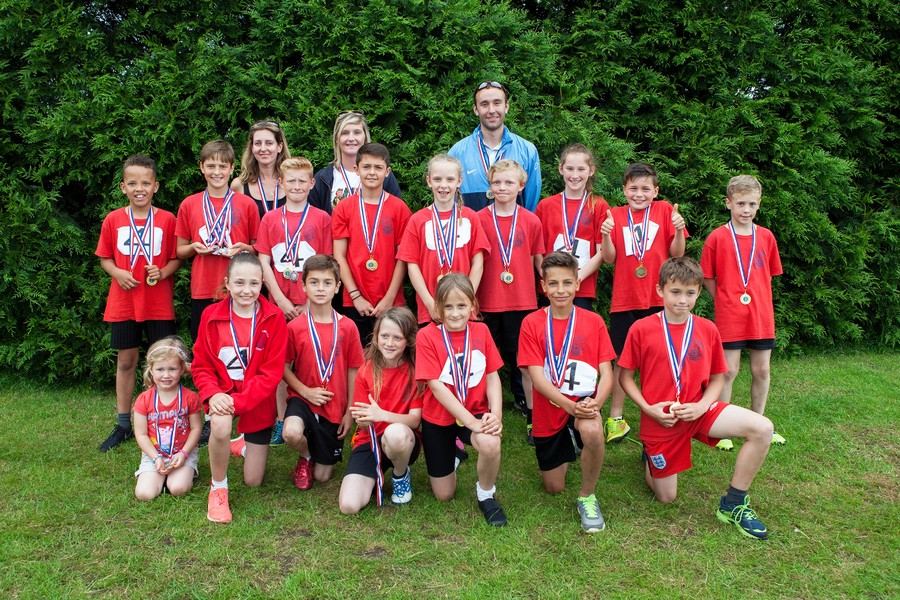 A school assembly with Dandy Lion from St Helena Hospice - April 2016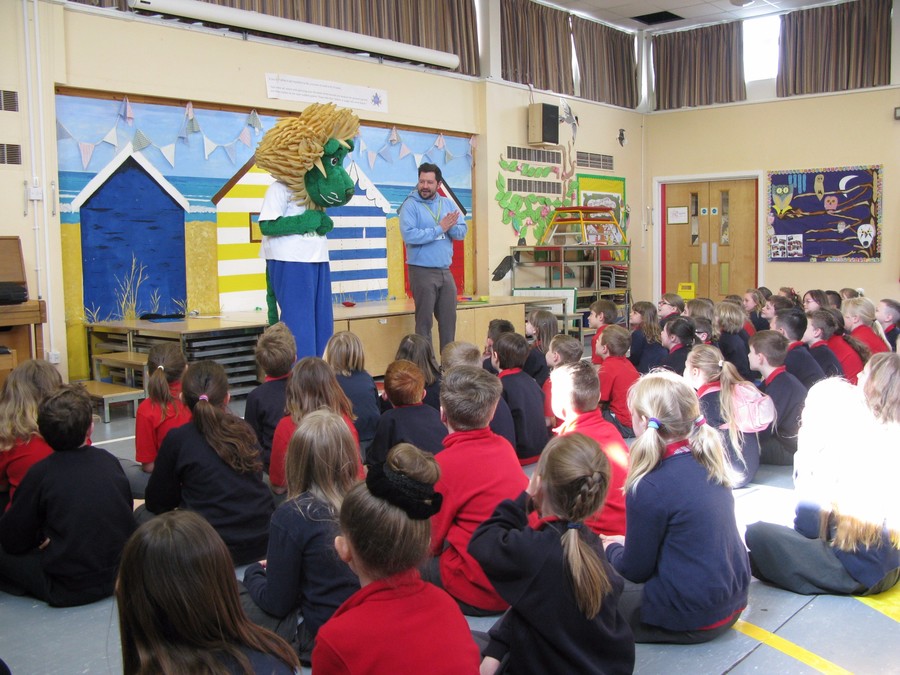 Miss Trunchbull led special assemblies at our school to mark World Book Day!
March 2016
Children In Need 2015 - Cartoon Characters and Superheroes
Roald Dahl Day - September 2015
Gallery
2015 Brightlingsea Juniors bullybeat VIDEO!

Click on the link to watch our bullybeat VIDEO!

'Dark Shadows' a rap written by Brightlingsea Junior School pupils

2015 Charity Coffee Morning for the Alzheimers's Society
2015 Coastal Storm Netball Tournament

Congratulations to our school netball team who triumphed in the recent Coastal

Storm Netball Tournament.

They won every match in their group (9-0,4-0, 4-0, 4-0, 1-0) to meet

Hamford Primary in the Semi-Final, and won that match 6-1.

The final against Walton Primary was very tense and at the final whistle

the score line was 1-1

so it came down to next goal wins! Brightlingsea Juniors were victorious

with a 2-1 win and were presented with a trophy as tournament champions.

2015 Comic Relief - Red Nose Day

For Red Nose Day this year we challenged our pupilsand staff to come to

school wearing a daft disguise.

Our challenge was accepted!

2015 Displays around the school

Take a virtual tour around our corridors and classrooms

as we share some of our displays with you.

2015 Pearson Teaching Awards - Miss Swan is a Silver Award Winner!

Miss Swan from Brightlingsea Junior School has been awarded

a Silver Award and is now a finalist for the 2015 Pearson Teaching Awards

2015 Pets As Therapy
2015 Working Walls
26th July 2014 Bellamy in Brightlingsea

David Bellamy visited Brightlingsea on Saturday 26th July 2014

and a small group of our pupils and staff were able to work with him

aboard the Pioneer.

Afternoon Tea with the Brightlingsea Deputy & Friends (Spring 2014)

"We all had a lovely afternoon, thank you the staff and the children.

Our Guests were so pleased, you would think that they had been to Buckingham

Palace.

They loved seeing the children with the musical instruments and we all love the singing."

Brightlingsea Christmas Tree Festival (December 2014)

These are our Remembrance Trees

Brightlingsea Junior School 40th Anniversary Year

School photographs and Log Book extracts from 1974-1976

Brightlingsea Juniors Press Pack

Press Pack are an after school club of budding journalists

who meet to write articles for our school newsletters, and attend community events

to report back to the school.

Bug Man - Martin Rapley visits Year 4 (Autumn Term 2014)

Children In Need

We are delighted to have raised over £500 for Children In Need

this year. We had fun dressing in spots and stripes!

Children In Need

Children In Need
Christmas Gift Table 2013

Our PTA Christmas Gift Table event was a great success.

Thank you to everyone who donated gifts and to all our vounteers

who helped wrap the gifts.

Gas Leak Evacuation

On Tuesday the 22nd of January 2013 the school was evacuated due to

the smell of gas. Read a report by Y6 writers here and see some

photographs taken at the time.

Great Bentley Football Festival (Summer 2014)

Photos and match reports from Mr French.

Holiday Show Year 6 (Spring 2014)

International Talk Like A Pirate Day 2013

Four pages of pirate photographs await thee. Click on the links if you dare! Arrrrr!

Penguin Week 2013

We have several pages of Penguin Week photographs,

make sure you click on the link at the bottom of each page to see them all!

Penguin Week 2013 - A Penguin Feast!

To celebrate Penguin Week our school kitchen prepared

a special Penguin Feast. Fish fingers, chips & peas followed by a selection of

wonderful penguin inspired cakes. What a wonderful way to finish off

the week - yum!

Penguin Week 2013 - Black & White Non-Uniform Day

We started our Penguin Week with a Black and White non-uniform day.

Pupils and staff came to school wearing black and white clothing,

or dressed as Penguins!

Penguin Week 2013 - Making Modrock Penguin Sculptures

Mr Peecock made three penguin shaped frameworks out of chicken wire.

We then covered these with modrock. Once dry we were able to paint our

giant penguin sculptures.

Penguin Week 2013 - Penguins on display

Take a look at the display around our school, created to

showcase the work we did in Penguin Week.

Roald Dahl Day 2012

We held a Dahlicious dress up day in September 2012.

Pupils and staff came to school dressed as a character from their

favourite Roald Dahl book. The BFG was a popular book choice

- please click on the image to see more photographs.

Roald Dahl Day 2012

We held a Dahlicious dress up day in September 2012. Pupils and staff came to

school dressed as a character from their favourite Roald Dahl book.

Please click on the image to see more photographs of our staff in costume.

Sailing Experience 2012

Every summer our Year 5 pupils take part in a Sailing Experience organised

by the Brightlingsea Harbour Commissioners.

Sailing Experience 2012

Snow Day at Brightlingsea Juniors (1980s)

This photograph appeared in the local paper in the 1980s.

Mr Hopkins, Headteacher at Brightlingsea Juniors at the time,

can be seen in the centre sitting on a plastic sack (makeshift sledge!)

surrounded by pupils enjoying the snow.

Click on the link to see a larger version of this photograph.

Do you recognise anyone?

Sponsored Walk 2012

Every summer we hold a whole school sponsored walk around Brightlingsea,

to raise money for school funds.

Stand Tall - Bateman returns to school (Autumn 2013)

Bateman, the Brightlingsea Junior School giraffe, returns to school after

taking part in the Colchester Zoo Stand Tall Exhibition. He was displayed

at Sainsbury's Stanway and then at Colchester Zoo. We are very pleased

to welcome him back!

Stand Tall - Bateman the Giraffe

Bateman the Giraffe - Brightlingsea Junior School's giraffe

prepares to leave school and take part in the Colchester

Zoo Stand Tall Exhibition.

Stand Tall - Bateman the giraffe at the zoo! (Early September 2013)

Bateman went on display at Colchester Zoo with all of the other

school giraffes.

Sunday Times School Meals Competition 2013

This competition was held as part of The Sunday Times's campaign

to improve school meals and increase the number of children eating them.

Nationally the service is in crisis, with only about 40% of children nationwide now taking

a hot meal at midday. The rest bring in packed lunches or go to local fast food outlets.

More than 250 children entered the national competition, with 30 entries shortlisted.

We were delighted to learn that one of our Y5 pupils was chosen as the overall winner

- with a poem in praise of our school dinners.

Year 6 Prom - Summer 2012
Year 6 Prom - Summer 2012