Believe & Achieve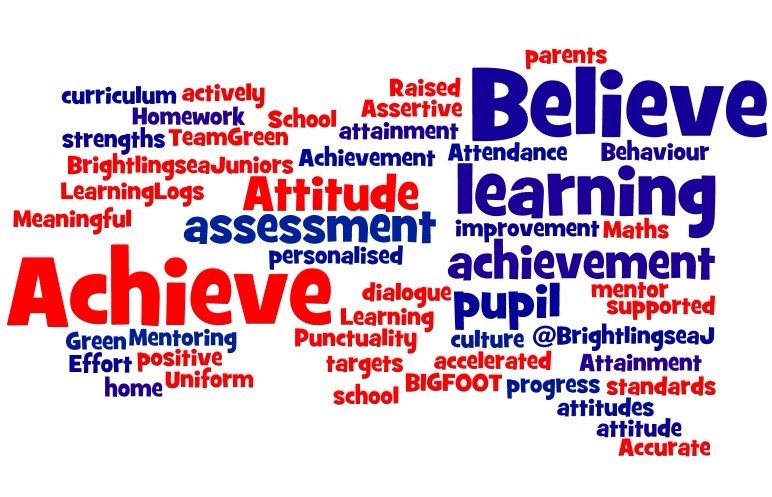 What is Believe & Achieve?
Believe & Achieve is based on the principles of Assertive Mentoring. It is a guaranteed, regular, one to one dialogue between a pupil and a mentor. It is evidence based and focused on 'The triple A': Attainment, Achievement, and Attitude. Believe & Achieve is a way of working that focuses on each individual pupil's strengths and areas of need. School wide systems have been put into place that allow teachers to track each child's progress carefully, identify where weaknesses exist, set targets for improvement and plan their lessons to meet the children's needs.
What are the aims for Believe & Achieve at Brightlingsea Junior School?
True assessment for Learning - each child will know their own targets and what they need to do to reach them. They are fully involved in the process.
A personalised curriculum for every child which ensures relevant intervention.
Raised standards for all – more children will reach or exceed their target in year Six.
Accurate assessment which informs planning and then ensures accelerated achievement.
Meaningful dialogue with parents.
Develop positive attitudes to learning of all pupils - whole school learning culture.
A streamlined system which incorporates parents evenings, target setting sheets, 1:1 mentoring sessions, learning plans and SEN reviews
What aspects of school are affected by Believe & Achieve?
Believe & Achieve 'thinking' is a way of working that all teachers in Brightlingsea Junior School adopt. Specifically, the systems put in to place directly impact on:
Mathematics (see factsheet on BigFoot Maths within Believe & Achieve Booklet)
Social & Personal Development
Reading (for some pupils)
How does Believe & Achieve affect my child?
The systems implemented under Believe & Achieve affect every child in the school. Children are grouped for certain activities as a result of the information a teacher has obtained through their assessment of the class. Children are given individual targets for writing and mathematics (and for reading if necessary). Teachers and teaching assistants support children in achieving these targets over the year.
Assessment is made against set criteria and outcomes are shown as:
| | |
| --- | --- |
| Green | Means your child is working at a level of progress which makes it likely they will hit their end of year target |
| Yellow | Means your child is making progress but is currently working at a rate that means it is less likely that they will achieve their end of year target |
| Red | Means they are making slow progress and it is currently unlikely that they will achieve their end of year target. |
Each child is also assessed at the end of every half-term on six strands within their Attitude Profile. The strands are:
Attitude: Attendance, Punctuality, Behaviour, Effort, Homework, Uniform

Green

Yellow

Red

Attendance exceeds 95%

Attendance between 90-95%

Attendance below 90%

Never late for school

Rarely late for school

Often late for school

Excellent behaviour: no Red Cards, trustworthy, responsible

Acceptable behaviour but one or more Red Cards

Poor/unacceptable behaviour: regular Red Cards and/or Behaviour Slips.

Consistently good effort, self-motivated, tasks completed

Usually good effort, sometimes needs reminders

Rarely good effort, refusal, tasks often left incomplete

Homework always completed and returned on time

Homework usually completed and returned on time

Homework often not completed or returned

Always in uniform, adheres to policy

Usually in uniform and follows school policy

Rarely in uniform, often breaks policy; jewellery, trainers, no PE Kit
We all know that attitude has profound implications for attainment and achievement. This system visually demonstrates that link and provides powerful evidence to children and parents.
Regular attitude tracking provides an effective vehicle for challenging such attitudes and demonstrating their effects on performance. In turn this becomes a powerful motivator for children and has been shown to have a positive effect.
At Brightlingsea Junior School we are all 'going for green' and we recognise the pupils who achieve green at the end of each term by giving them a 'Team Green' badge that they can wear in school throughout the next term. In 2014-2015 we removed the requirement to have an Attendance rate above 95% to be Team Green. This means that for the school year ahead a child can be Team Green if they have green for: Punctuality, Behaviour, Effort, Homework, Uniform - even if they are not green for attendance.
At Brightlingsea Junior School we believe in the strength of positive reinforcement, so children are rewarded for certain successes throughout the year. These rewards, together with all the other information relating to Believe & Achieve, are stored in their personal Believe & Achieve Folder. Children achieving awards receive a letter home informing parents of how well they are doing at school. New for September 2016 - we now have badges to go with the certificates that are awarded for Bronze, Silver and Gold awards.
How does Believe and Achieve affect me as a parent?
Research has clearly shown that children who are actively supported in their learning at home do better in school. Through the systems we have put in place you will:
Be able to support your child with their learning, as details of what they are currently working on will be shared in their Learning Log every fortnight.

Be able to support and guide your child in their personal and social development. At the end of each term you will receive an update on how well your child is doing in the six Attitude strands outlined previously. With this knowledge you will be able to praise your child for the areas they are doing really well in and, if necessary, offer guidance in those they are not. Children who come to school with a positive attitude and are committed to trying their best will make progress. You can help by instilling these qualities in your child.

Be invited to attend a Learning Conference twice a year in school. These are similar to the traditional parent consultations we have held in the past, but differ in the way the teachers manage the meeting and the clarity of the information they will provide you with. During the meetings you will have an opportunity to review your child's Believe & Achieve Folder and look through their work. It is important to note that your child needs to attend this appointment with you, as they will be leading the conversation about their learning.
If you have any questions about Believe & Achieve please contact Mrs May or Miss Girling, our Believe & Achieve champions, who will be happy to answer them for you.
What did Ofsted say about Believe and Achieve?
"Leaders have successfully promoted the key theme of 'believe and achieve' to ensure all staff become involved in school improvement. By setting teachers and pupils challenging targets, school leaders have tackled previous inconsistencies in teaching and learning so that attainment is rising, particularly in mathematics, spelling, grammar and punctuation. Parents are also engaged effectively in this programme, to support their children in taking more responsibility for their homework. The school makes good use of 'learning logs' to extend pupils' opportunities to develop their learning by linking homework to activities completed in the classroom. These make a significant contribution to pupils' achievement." Extract from our inspection report June 2015
You can download a Believe & Achieve Booklet below